Angel Shoutout: Congregation Beth Emeth
In honor of the efforts of the Congregation of Rodeph Sholom in NYC, whose Shirenu program I actively support, Beth Emeth has just announced their initiative to assist individuals with special needs.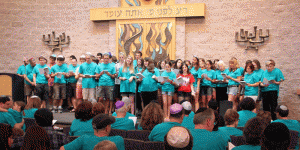 Congregation Beth Emeth (CBE) is an egalitarian Conservative synagogue in Herndon, VA, part of the Washington, DC metropolitan area. With more than 400 Jewish families, they consider themselves large enough to meet the spiritual, educational, and social needs of their members while preserving the warmth of a close-knit community. After being inspired by "Angel on our Shoulder" and the Shireinu program, they have decided to expand their efforts into assisting the special needs of the adults in their congregation.
At Congregation Beth Emeth (CBE), they recognize that each person finds meaning in their religious identity in their own way. CBE offers a diversity of opportunities to help their congregants find their Jewish voice. Their new special needs organization is a program that provides individual attention and one-on-one tutoring in Hebrew and Jewish Studies to students with a variety of learningneeds.
CBE recognizes the changing structure of American Jewish congregants. They openly state that they make no distinction between our interfaith families, single-parent families, singles, same-sex families and their "traditional" families. With the start of their new special education program, their open-minded beliefs system continues to expand. To Beth Emeth, each individual is simply apart of the CBE family.